The Great Gatsby by F. Scott Fitzgerald. New York, NY: Scribner's, 1925.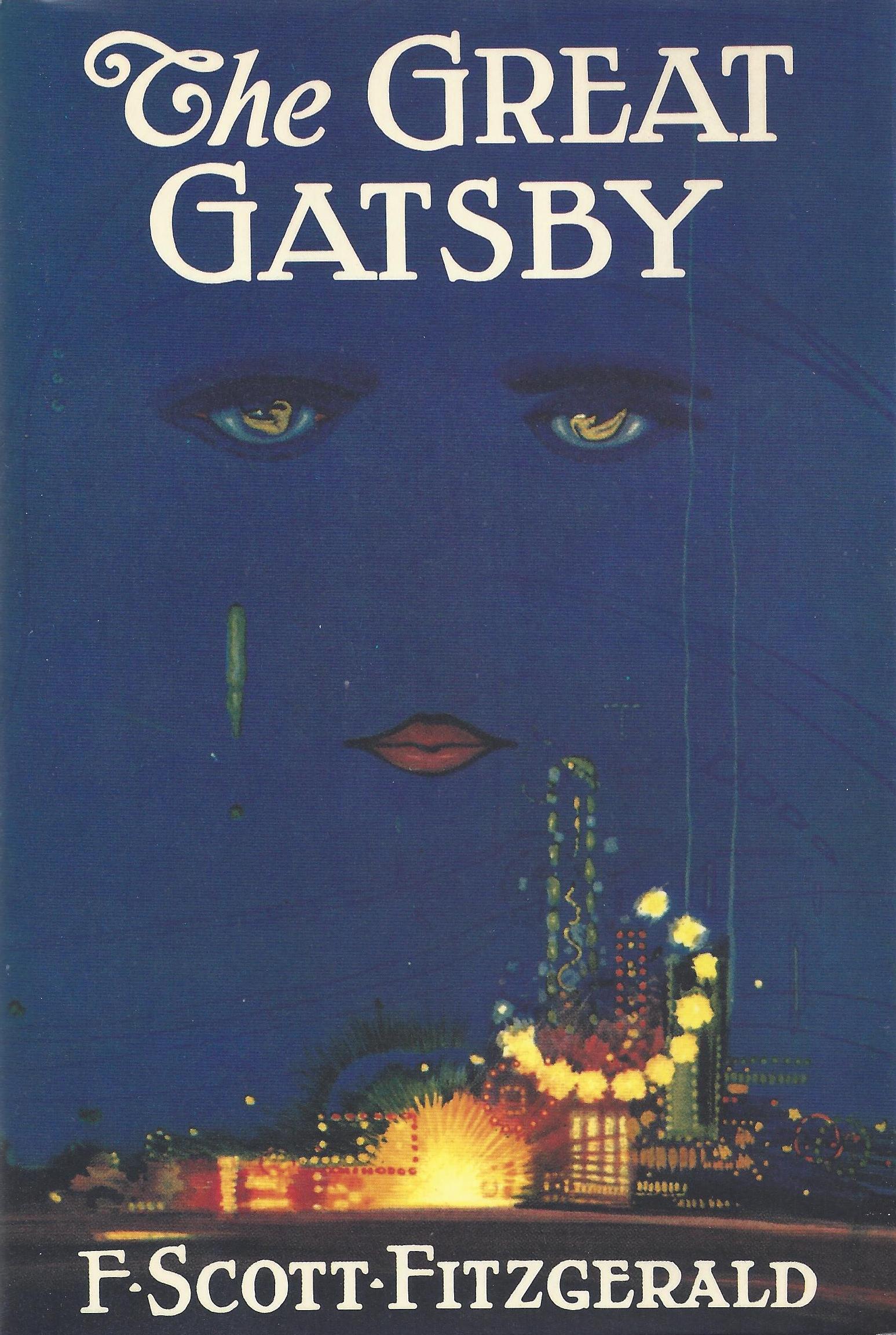 The cover art for
The Great Gatsby
is one of the most enduring covers in book publishing history. It is also said to be the most expensive piece of paper in book collecting.
Before the publication of The Great Gatsby in 1925, Scribner's had published two novels by F. Scott Fitzgerald, This Side of Paradise (1920) and The Beautiful and Damned (1922). Both of the dust jackets for these novels displayed rather straight forward scenes from the novels, a man and a woman in courtship. Color is downplayed with the use of three muted shades of orange, gray and black.
The art of the Gatsby dust jacket by Italian artist, Francois Cugat, is remarkable for its symbolic nature, its use of color, and fine details. Two feminine eyes float over a nocturnal Coney Island carnival scene. Two nudes are subtly reclining in the irises. A brush of glare, or perhaps a tear, in the midnight blue sky as well as the explosive light emanating from the carnival scene below suggest tragedy.
While Fitzgerald was in the middle of writing The Great Gatsby in the summer of 1924, he was shown a draft of the jacket. His reaction is famously documented in a letter to Maxwell Perkins:

"For Christ's sake, don't give anyone that dust jacket you're saving for me. I've written it into the book."

This influence of a dust jacket on the writing of a book in progress is one of the only recorded instances. Cugat never produced another dust jacket, but his art is still beautifully reproduced on the paperback copies that many high school students purchase for required school reading.
The Great Gatsby as a first edition (18,000 copies in the first printing) is not one of the rarest of books, but the survival of the dust jacket is key. The jacket, made too tall for the book, easily chipped, which only encouraged the owner to toss the jacket into the waste bin before long. The dust jacket of
The Great Gatsby
is one of the most outstanding examples of increased value in a first edition. Without the jacket, a first edition may sell for under $10,000. With the dust jacket, the price can be upwards of $100,000.


Written by Lisa Newman
Lemuria Bookseller