Breathing Lessons by Anne Tyler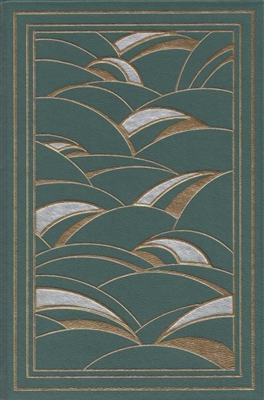 Franklin Library: Philadelphia, PA: 1988.
The Franklin Library of Philadelphia, Pennsylvania published some of the most beautiful leather bound books of the twentieth century. In operation from the early 1970s until 2000, the press published collectible books in three different styles: full genuine leather, imitation leather, and quarter-bound genuine leather. The books were released in several series: The 100 Greatest Books of All Time, The Great Books of the Western World, Pulitzer Prize Classics and the Signed First Editions series. Franklin Library provided an affordable way to enhance a library's look and feel. Besides being aesthetically pleasing to many collectors, the fine craftsmanship of the books ensure they can be handed down from generation to generation.
The Signed First Edition series gave readers a way to have a signed book from authors that might otherwise be inaccessible. One example is
Breathing Lessons
by Anne Tyler. During the 1980s, Tyler was nominated twice for the Pulitzer Prize for
Dinner at the Homesick Restaurant
and
The Accidental Tourist
. The Franklin Library honored her in 1988 with a leather bound Signed First Edition of
Breathing Lessons
, for which she finally won the Pulitzer Prize. Tyler has always been a private author, declining book tours and rarely giving interviews. Although her publisher Knopf has worked over the years to distribute pre-signed trade editions, they are always of limited number. Anne Tyler releases her twenty-second novel,
Clock Dance
this July.
Other beautiful books in the Signed First Edition series include:
Where I'm Calling From
by Raymond Carver,
The Moviegoer
by Walker Percy,
Lie Down in Darkness
by William Styron,
The Optimist's Daughter
by Eudora Welty,
All the King's Men
by Robert Penn Warren. For those book lovers looking to begin a Franklin Library collection, or just to add a few of their favorite titles to their library, fine and used bookstores still carry some Franklin titles. The fun is often in the hunt.