The Blurb



Ralph Waldo Emerson wrote a private letter to Walt Whitman in 1855, extolling the power of the then obscure writer: "I am not blind to the worth of the wonderful gift of 'Leaves of Grass.' I find it the most extraordinary piece of wit and wisdom that America has yet contributed." Just a few months later the letter, with Walt Whitman's permission, was printed in its entirety in The New York Tribune. With "Leaves of Grass" having been published on July 4, 1855, a new 1856 edition was released with a short quote from Emerson's letter to Whitman on the spine of the book. It read "I greet you at the beginning of a great career." Scholars believe that this sentence was one of the first book blurbs to ever appear on a book.


Today we read book blurbs all the time. Books are compelling, awe-inspiring, striking . . . Hundreds of thousands of books are published every year, many plastered with words of praise, comparing the new authors to ones we consider timeless like Cormac McCarthy, Ernest Hemingway, and Toni Morrison. Ernest Hemingway was once blurbed himself when he was still an unknown. Six quotes from six different authors appeared on the front the 1925 edition of "In Our Time."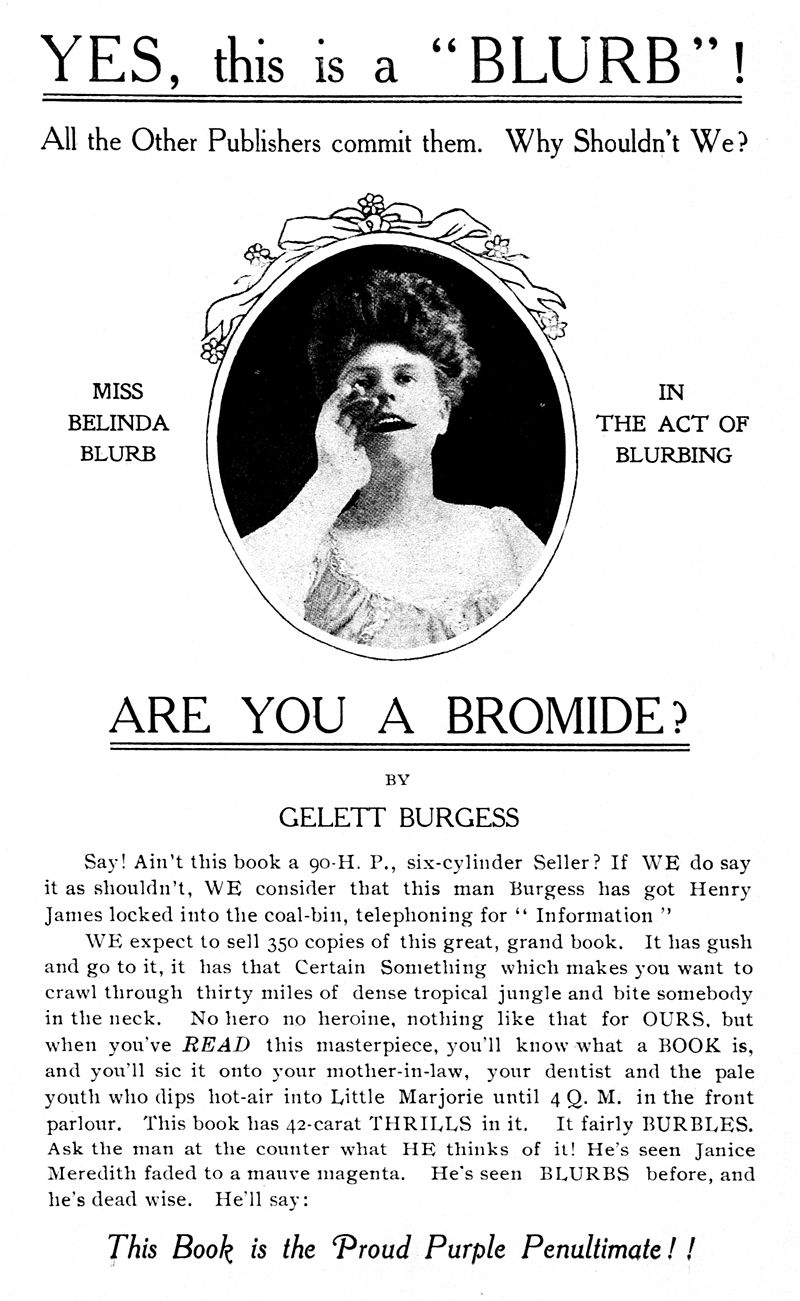 The word "blurb" is believed to have been coined in 1906 by Gelett Burgess on the front cover of his book "Are You a Bromide?" Above the description of the book, which was given out at a trade conference, is a pretty woman announcing the blurb: "YES, this is a 'BLURB'! All the Other Publishers commit them. Why Shouldn't We?" The image of the woman calling is captioned "MISS BELINDA BLURB IN THE ACT OF BLURBING". The actual blurb calls the book "a 90-H. P., six-cylinder Seller."

These days we often read novelists blurbing other novelists. Stephen King and Gary Shteyngart are two prolific blurbists. It's like another career they have running parallel to novel writing. And then there are writers who never blurb. Novelist Mark Helprin visited Lemuria last month to talk about his new novel "Paris in the Present Tense"—a fine book which needs no blurbs. I did not really know anything about Mark Helprin so I read a lengthy interview in the Paris Review from 1993 in which he relates his feelings about blurbs and reviews.

Mark Helprin gave his first book to his friend and well-known writer John Cheever with the hope that he would write a favorable review. When Cheever rejected the book and wrote a review for another writer, Helprin described the rejection as a "double lightning bolt of anger and shame." And so his first book, "Dove of the East," has no blurbs on the dust jacket, just a photo of Mark Helprin on the back of the dust jacket looking rather melancholy. To this day, Helprin writes no reviews or blurbs for other writers, he does not long for prizes, and he occupies himself with a large life beyond writing his best-selling novels. He shared in the Paris Review that it was "Flaubert who said something like 'live like a bourgeouis so you can write like a wildman.'" Though others continue to blurb, I will not blurb Mark Helprin's "Paris in the Present Tense." Just read it and live wild.

Written by Lisa Newman